Gangtok Pelling Tour: Explore The Most Beautiful Part of Sikkim
West Sikkim is perhaps the most beautiful among the different parts of Sikkim. With Gangtok as a base any visitor can enjoy trips to different parts of the state. Gangtok Pelling Tour is one which is highly recommended as it lets the visitors enjoy the pretties and the best of the state.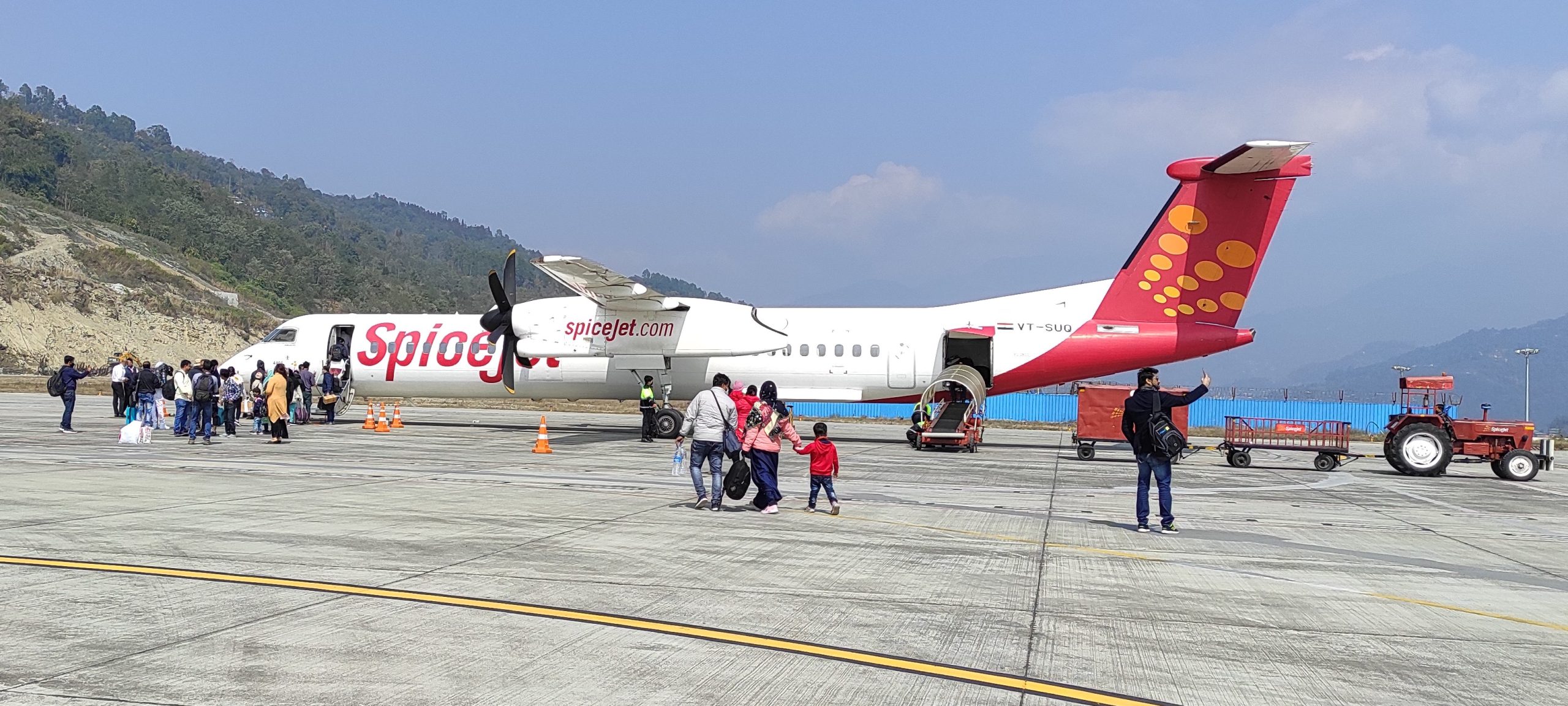 Day 1: Arrive in Gangtok
(Stay at Cherry's Gangtok)
Gangtok Pelling tour starts with your arrival at New Jalpaiguri (NJP) Railway Station or Bagdogra Airport in Siliguri. You can also make the beginning by using Pakyong Airport for reaching Gangtok.
Drive from the place of arrival to Gangtok, one of the most beautiful hill stations in India. The drive to Gangtok, the capital city of Sikkim, from NJP and Bagdogra is around 4 to 5 hours.
From Pakyong Airport, Gangtok is nearly an hour drive. Check into Cherry's Gangtok on arrival. Go and take a stroll on the MG Road towards evening. Overnight in Gangtok.
Day 2: Gangtok City Tour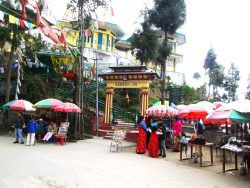 (Stay at Cherry's Gangtok)
First leg of Gangtok Pelling Tour involves city tour of Gangtok.
Gangtok has a number of attractions – from monasteries to flower shows to waterfalls to cable ride experiences. Start the day after breakfast with a tour to Enchey Monastery. Afterwards, visit Ganesh Tok, a Ganesha Temple on a hill top from where you can have a magnificent view of Gangtok city.
Go on to visit Tashi View Point afterward. On a clear day you can see the range of Kanchenjunga mountains.
Flower Show is a unique feature of Gangtok. You can see a whole range of orchids and other flowers and ornamental plants of Sikkim. Later, you can opt to visit Institute of Tibetology, which houses a museum. It has a lot of valuable scriptures preserved there.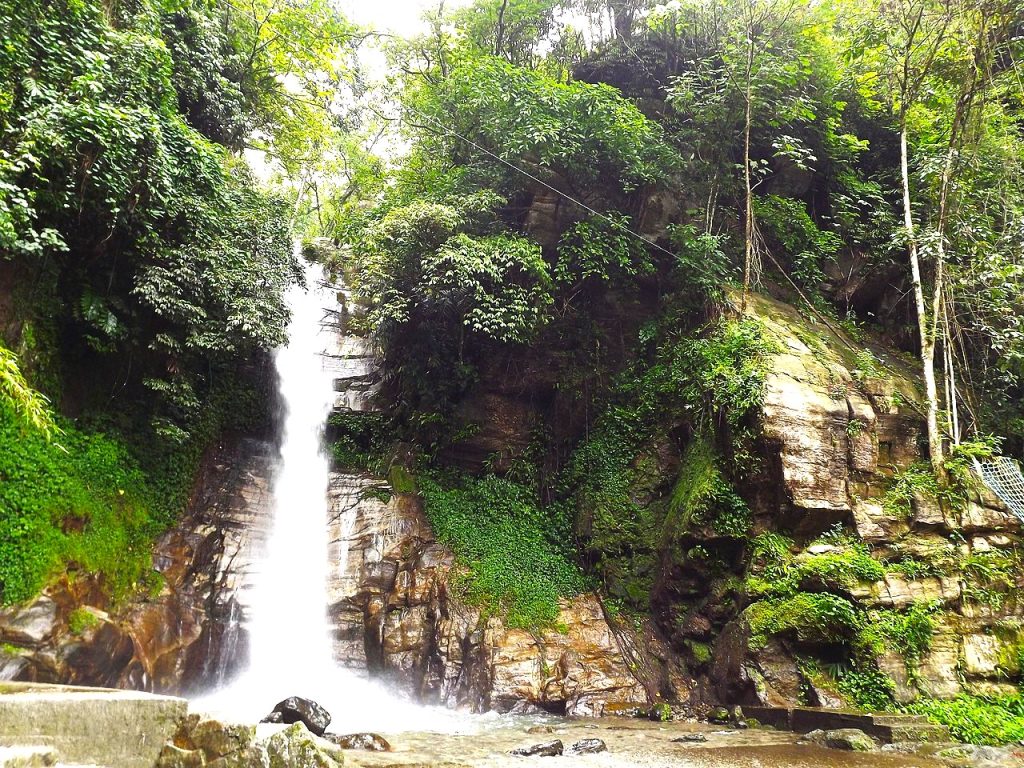 A visit to Banjhakri Falls would fulfil your day. And, finish the day with a trip to Gangtok ropeways. This is an exciting way to see a good part of the city. Later, return to the hotel, have a nice dinner and enjoy a nice overnight sleep.
Day 3: Trip to Tsongmo Lake, Baba Mandir
(Stay at Cherry's Gangtok)
As a part of Gangtok Pelling Tour, any visitor must take time to see the special attraction situated closer to Gangtok.
Start the day with an early breakfast for a trip to Tsomgo lake, also called Changgu. This is located at an altitude of 3750 meters above sea level and is three hours drive from Gangtok.
If you ever imagined a scenic place to see, Tsomgo Lake will fulfil your that imagination. The lake is highly revered by the locals and hence tourists are not allowed to enter the lake.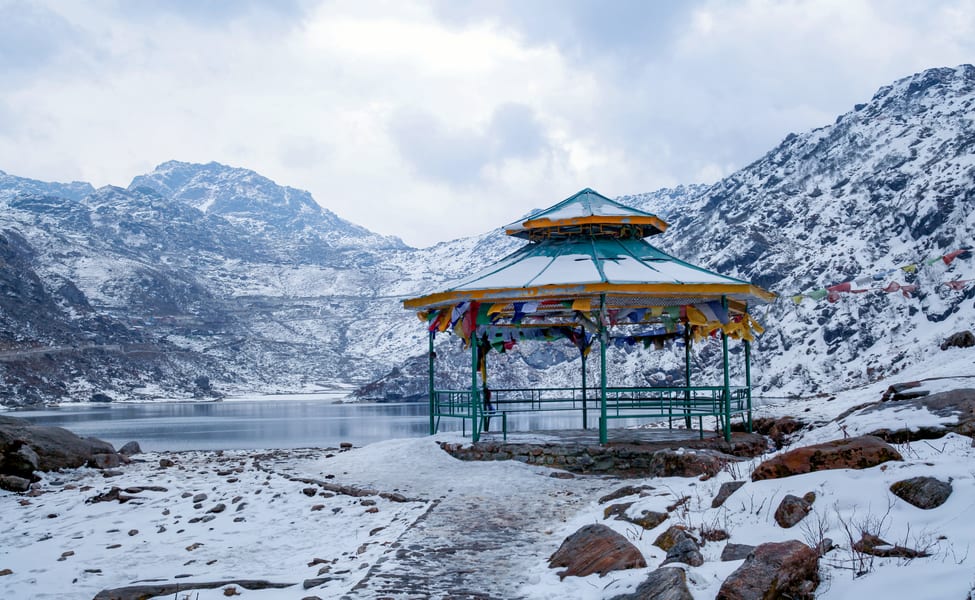 After a refreshing visit to Tsomgo Lake, go on to visit Baba Harbhajan Mandir, which is situated at an altitude of 13,200feet. This temple has been built and managed by 17th Mountain Brigade in memory of Baba Harbhajan Singh who used to be a soldier deputed in this brigade. He was gushed away in the river in 1960 while on a patrolling duty. It is said his spirit still safeguards the Indian borders.
Once you are done experiencing beautiful moments here, drive back to the hotel. Enjoy a sumptuous dinner. Overnight in Gangtok.
Day 4: Gangtok – Pelling
(Stay at Cherry's Gangtok)
Today Gangtok Pelling Tour reaches Pelling leg of the tour. Start the day with a nice breakfast. Finish the breakfast and start for Pelling, a town situated in West Sikkim. This is 120 km from Gangtok and is a drive of  around 5.5 hours.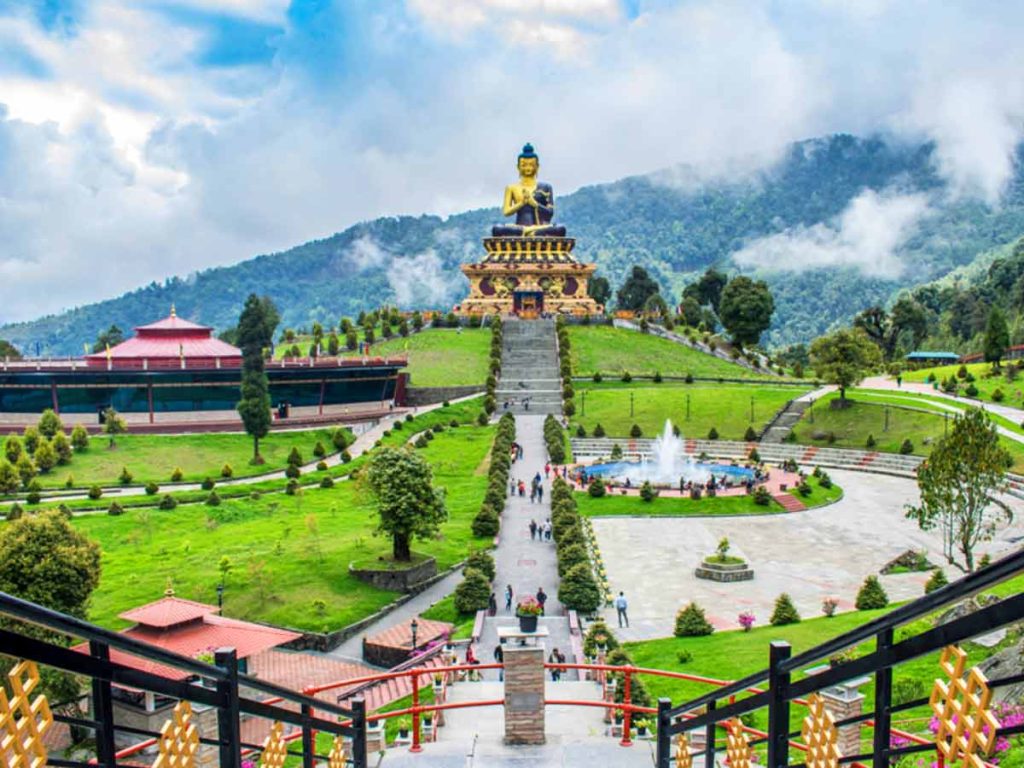 On the way to Pelling you will stop to visit Namchi Char Dam and Samdruptse Statue. These have religious importance in Sikkim. Afterwards, head to Ravangla. Enjoy nice serene time at Buddha Park which has a big statue of Buddha.
You can choose to visit Temi Tea Gardens. Tea produced from this garden are quite famous and can be seen in the markets of Sikkim everywhere. You can also notice Kanchenjunga and other peaks from Ravangla if the weather is clear.
After finishing trip to Ravangla, head to Pelling, the final destination for the day. Check into a hotel here. Enjoy a nice dinner. Overnight in Pelling.
Day 5: Pelling Tour
(Stay at Cherry's Gangtok)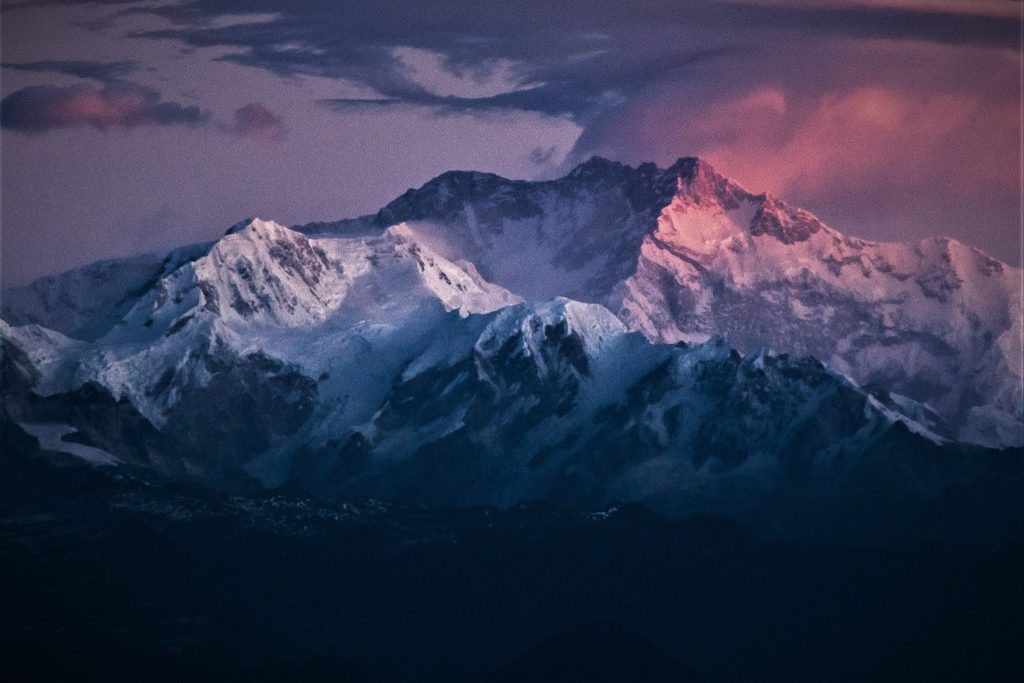 As a part of Gangtok Pelling Tour, the time is now set for exploring Pelling.
Have a nice breakfast and start exploring nature rich Pelling. You may start with a visit to Darap Valley and later on go to visit Rimbi Waterfalls and Rock Garden.
A visit to Kanchenjunga waterfalls will mesmerize you. The sparkling clear Khecheopalri Lake will surprise you. This lake is considered quite sacred by the locals. You will not see even a small leaf floating in lake water.
You can also visit Rabdentse Ruins, Pema Yangtse monastery and Helipad Ground in Pelling.
After finishing a hectic day of local sightseeing, drive back to your hotel. Enjoy your dinner. You can try some local delicacies. Overnight in Pelling.
Day 6: Pelling – NJP/Bagdogra
(Stay at Cherry's Gangtok)
Start the day with a sumptuous breakfast and head for NJP railway station or Bagdogra airport for your onward journey. Pelling to NJP or Bagdogra is nearly a six hour drive. Thus ends Gangtok Pelling tour.
