7 Best Places To Visit In Gangtok 
While staying at Cherry's Gangtok, visitors can opt to visit North Sikkim or Pelling and West Sikkim, or even Darjeeling. Gangtok City Tour is going to be an enthralling experience for anyone visiting Gangtok.
Gangtok, a hill station situated on a cloudy ridge, is located at an altitude of 5500 meters above sea level.  The place has captured the imagination of tourists in a big way in recent years. Here is a list of 7 best places to visit in Gangtok:
1.Lake Tsomgo 
(7 Best Places to Visit in Gangtok)
A high altitude Himalayan lake, Lake Tsomgo, also called Changgu Lake, is a popular tourist destination in Gangtok. The lake, located at more than 12500 feet, is situated at around 40km from Gangtok and can be reached in around two hours by a a government-approved taxi service that will also help you obtain the relevant permits required to visit this area. Lake Tsomgo lies on the route to Nathula Pass.
2.  Nathula Pass
(7 Best Places to Visit in Gangtok)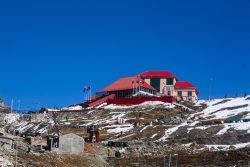 Located on the Old Silk Route, Nathu La Pass, situated at an altitude of more than 14400 feet, is a border post between India and China's Tibet Autonomous Region. Once an active trade route, this pass was sealed for over 40 years till it was thrown open again in 2006. To visit Nathu La, one needs special permission from the Tourism and Civil Aviation Department. This can be done by a Gangtok-based registered travel agency. Valid identity proof and two photographs are necessary for the same.
3. Rumtek Monastery
(7 Best Places to Visit in Gangtok)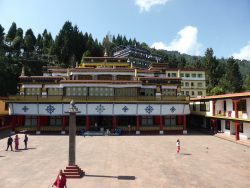 Rumtek Monastery, main seat of the Karma Kagyu lineage, was established in Gangtok in the 9th century under the direction of Wangchuk Dorje. This is one of the biggest monasteries in India. The monastery is fortified with huge area for the monks. Adorned by silk paintings, murals and statues, the monastery has been constructed in accordance to the traditional design of Tibetan monasteries.
4. Namgyal Institute of Tibetology
(7 Best Places to Visit in Gangtok)
This is one of the most important centers which study about the Tibetan language. It has a small museum as well which showcases Tibetan History. A library also exists within the premises of this center. It has rich collections of Tibetan and Tibet related works.
5. Tashi View Point
(7 Best Places to Visit in Gangtok)
This is one of the most popular destinations for tourists in Gangtok. This located some 7km from the center of Gangtok City. It is famous for offering wonderful views of Mount Kanchenjunga and Siniolchu on clear days. Tourists can also enjoy spectacular views of Labrang Monastery and Phodong Monastery from here. Taxi stand for North Sikkim also lies close to this place. Bird watchers do use the place to get a glimpse of some Himalayan birds which are often seen here.
6. Banjhakri Falls
(7 Best Places to Visit in Gangtok)
Banjhakri waterfall, which lies around 9km from the center of Gangtok city on the way to Ranka monastery, is a major tourist destination in Gangtok. Water falls from about 40 feet with great force at this waterfall.
The lush green surroundings of the waterfalls make it look even more beautiful and alluring. Near the Banjhakri Falls is Energy Park, which is quite popular among tourists. This park has a swimming pool as well for the tourists.
Banjhakri made up of two words, 'Bana' means jungle, and 'Jhakri' means healer. In Nepalese folklore it is believed that the ethnic tribes of Sikkim had a lot of faith in people called Jhakris, who had healing and magical powers. They were believed to have powers to influence the spirits to bring about good and evil. There are a number of sculptures of the Jhakris in the park.
7. Flower Exhibition Center
(7 Best Places to Visit in Gangtok)
A short walk from MG Road, The Flower Exhibition Center, has a rich collection of flowers from Sikkim, with a variety of orchids on display. The flowers include poppies, gentians and primulas. The center looks the best when it is the season for blooming of flowers. An annual flower show also takes place here every year during April and May.