7 Best Things To Do In Goa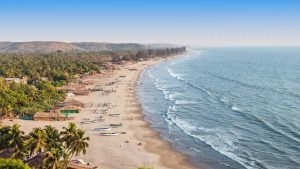 The moment you mention the word Goa, all what conjures up in the minds of many are beautiful locations by sea side lined up with palm tress and a few beach shacks. Some others may think of greeneries all around with all freedom to roam around and soak in nature by sea side.
For some people an image of Goa, is where people party shunning all their inhibitions by a sea side with tourists from all over the world. Among all these common factor is the sea side. No wonder, Goa, is often hailed as the 'Beach Destination Of India'.
Though India has a coastline of more than 6000km, the tiny state of Goa, with a coastline of merely 105km, has become the fancy of almost all tourists in India – Indians or foreigners.
However, Goa, is not just about beaches. No doubt, Goa, has some wonderful beaches but Goa, has a lot more to offer. Goa, has waterfalls, temples, churches, wildlife sanctuaries, heritage monuments, unique cuisines and to top it all, a rich nature. Here is a list of 7 best things to do in Goa:
I. Enjoy Beaches
7 Best Things To Do In Goa; Stay at Cherry's Goa
Goa is divided into North Goa and South Goa. Beaches in Goa are also seen like this. Developments permitted along the beaches in North Goa and South Goa are also different. North Goa beaches has more crowd and parties on the beaches are a lot more common. In South Goa beaches are quite tranquil, less crowded and perhaps less spoilt.
Some of the most famous North Goa beaches are Candolim, Calangute, Baga, Anjuna, Morjim, Arambol, Sinquerim and Vagator. On the other hand, some of the most famous South Goa beaches are Colva, Palolem, Varca, Agonda, Benaulim, Mobor and Cavelossim. Some beaches like Butterfly Beach, Cola Beach, Kakolem Beach require special efforts to reach and are often described as hidden beaches in Goa.
While multi-storey hotels are allowed in North Goa, South Goa has more resorts and at most of the places on or closer to beach, maximum two storeys are allowed in buildings. Along North Goa beaches one can find all sorts of eateries. Markets with shops selling all sorts of goods are quite at many beaches in North Goa. If night life is what you are looking for then North Goa beaches are where you should head for.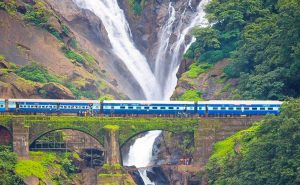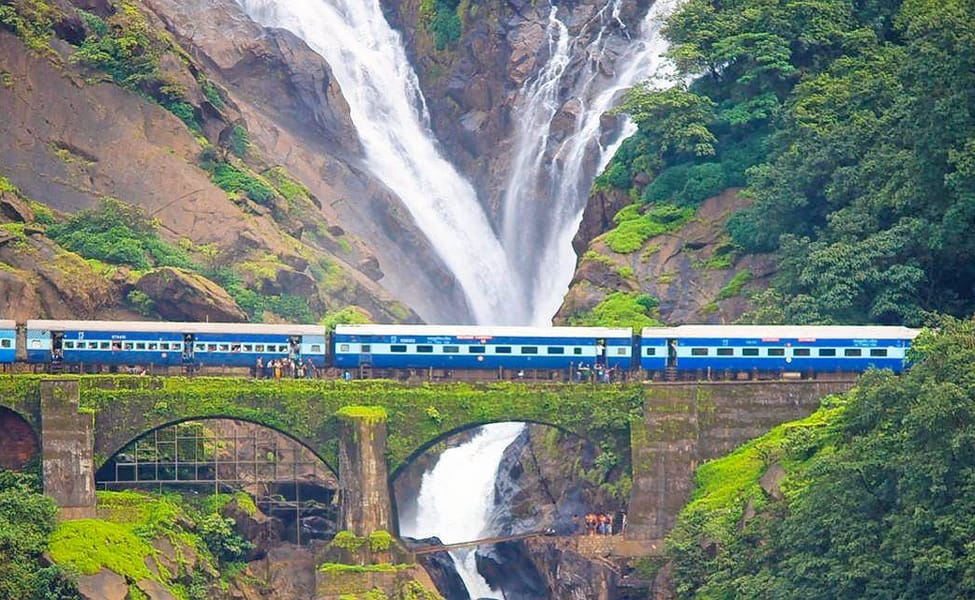 II. Explore Waterfalls in Goa
7 Best Things To Do In Goa; Stay at Cherry's Goa
Goa is much more than only beaches. With plenty of water sources in the form of rivers and lakes and portions of Goa having plateau, there are several waterfalls in the state. Most of these waterfalls are refreshing to see post monsoon.
Dudhsagar Falls is the most well known of the waterfalls in Goa. It is situated on Goa-Karnataka border. It is a 4-tiered waterfall with the total height being 320 meters. The waterfall has been named so after its milky appearance. Route to Dudhsagar Falls pass through Mollem Wildlife Sanctuary.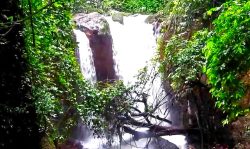 Located on the southern banks of River Zuari close to the Cortalim village is Kesarval Waterfall – a waterfall whose water is said to possess medicinal properties. The height from which water falls is somewhere around 70 meters. A good thing about this Fall is that it is situated very close to the highway. This is why it is quite popular among tourists who can make a quick pit stop and enjoy a blissful dip in the spring water.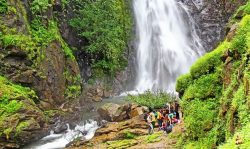 Netravali Waterfall, situated in Sanguem Taluka in South Goa, is another beautiful waterfall tourists can enjoy visiting. Water falls from a height of around 50 meters. Netravali Waterfall, also known as Savari Falls, is tucked inside Netravali and Mhadei Wildlife Sanctuary. Visitors need to trek for about a kilometer to reach the waterfall. There are several other waterfalls in the vicinity of this waterfall during post monsoon period.
There are some waterfalls near Maharashtra border with Goa as well. All these also come to life during the monsoons and are best enjoyed for a few months after monsoon.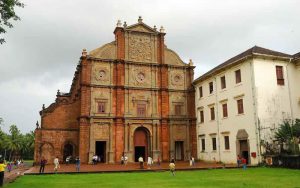 III. Visit Churches in Goa
7 Best Things To Do In Goa; Stay at Cherry's Goa
When almost whole of India was British occupation, Goa was one of the very few places in India which remained under the occupation of the Portuguese. Under more than 500 years of Portuguese rule, a number of churches and chapels were built in all parts of Goa.
Most famous of the churches in Goa is Basilica of Bom Jesus, a church which was constructed way back in 1605. Listed as one of the UNESCO World Heritage Sites; this church has kept intact the mortal remains of the famous Jesuit Saint, Saint Francis Xavier.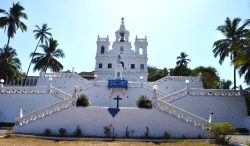 Church of Our Lady of Immaculate Conception, located in Panaji, is a significant landmark. Quite easily distinguishable by its zigzag stairways on two sides, this Church in all white houses the Augustinian Bell. View of Panaji from the steps is quite nice. The Church makes its presence felt by lighting the facades after sunset in different colors. Chapel and a statue of St. Francis Xavier can be seen here.
Se Cathedral Church and Church of Our Lady Of the Mount are other popular churches in Goa. While Church of Our Lady Of the Mount was built on the orders of the Portuguese General Albuquerque in 1510, Se Cathedral Church was built in 1640 to glorify Portuguese prowess in Goa. Located close to Se Cathedral is the Church of St. Cajetan, said to be modelled after Vatican City located St. Peter's Basilica. In this Church one can see Portuguese style getting mixed with Cornithian style designs. Mae De Deus Church, built in Gothic style, situated in Saligao, with its castle like appeal, is regarded as one of the best churches in Goa.
There are several other churches and chapels in Goa.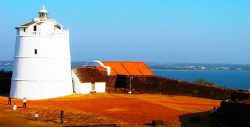 IV. Explore Forts in Goa
7 Best Things To Do In Goa; Stay at Cherry's Goa
Goa has a rich history of its own. Before the Portuguese came, Adil Shahi rulers had ruled for long years in Goa. These rulers had built a number of forts in Goa. Portuguese, after occupying Goa, modified most of these forts to suit their own interests. Forts which exist till this day in Goa are Fort Augada, Chapora Fort, Tiracol Fort, Reis Magos Fort, and Cabo de Rama Fort. One thing common about all these forts is that they offer spectacular views of Arabian Sea.
Tiracol Fort has now been converted into a heritage hotel. Chapora and Cabo de Rama Fort are located on a cliff and are in ruins. So, there are no specific timings to visit these. But Fort Aguada and Reis Magos Fort are open to visitors till 5.30pm in the evening.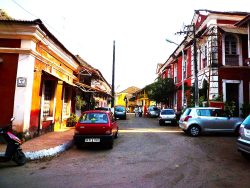 V. Experience Heritage Walk
7 Best Things To Do In Goa; Stay at Cherry's Goa
Goa has a rich cultural heritage. This is reflected not just in cuisines, religion and lifestyle in general, but also in the monuments left over by the Portuguese. One can have heritage walks at several places in Goa. But the most famous of the heritage walks is Fontainhas Heritage Walk in Panaji.
This walk, which should last for around three hours, is organized around the old Latin Quarter in Panaji. Soak in the rich heritage of the neighborhood and interact with locals who strive to keep centuries of culture alive to this day. On this walk you will get to hear intriguing tales of the residents of this neighbourhood from Portuguese times. You will get a chance to listen to live performance of Goan musician showing a blend of Konkani and Latin styles. The streets are lined up with Portuguese style homes painted in a bright colours, making this every photographer's paradise. You can choose to visit a heritage café to take a quick bite as well.
Besides Fontainhas Heritage Walk, there are other heritage walks possible in Goa.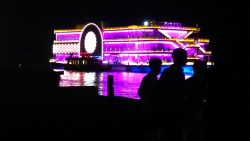 VI. Relish A Casino Visit
7 Best Things To Do In Goa; Stay at Cherry's Goa
Goa is one of the very few states in India which allows casinos. There are both off shore and on shore casinos in Goa. Experiences at all casinos are different from each other. Usually an entry to these casinos is through a package which includes food and some complimentary chips. Packages to casinos begin at around Rs2500 per person.
VII. Experience Nightlife of Goa
7 Best Things To Do In Goa; Stay at Cherry's Goa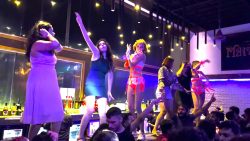 Goa is often described as the most happening place in India so far as nightlife goes. Even if you are not a party bug, advise is to just experience the nightlife of Goa. Goa nightlife comes to life with dizzy neon lights, great music, delectable food – all combine to create the perfect ambience you can hope for. Be it crazy partying with people from different continents, playing your luck at the casinos or having a beach-side bonfire-barbeque night, Goa has everything you can fancy. Beach Discos are also almost available at every beach.
Tito's, situated in Baga area, is one of the most popular nightclubs of Goa. The Club has made a name for itself offering a large dance floor, an open-air restaurant with access to Baga Beach, and some unique cocktails and good food. Club Cubana is another famous night club in Goa. Located on Arpora Hill, Club Cubana is loved by people for its neon-lit and multi-level dance floors with an open-air bar. This club is said to be quite popular among international tourists.
There are several more night clubs in Goa. Some of the famous ones include LPK, SinQ, Leopard Valley, Hilltop and Palms And Sands.