7 Best Places To Visit In Darjeeling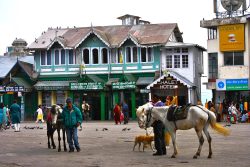 Counted among the best hill stations in India, Darjeeling, situated in West Bengal right at the border of Sikkim, is famous for producing world class tea. Darjeeling brings memories of so many monumental Hindi and Bengali film songs which have been shot here. Darjeeling brings the image of the UNESCO World Heritage listed Toy Train, which was established by the British in 1881 to access this Himalayan town to escape summer heat.
British played the lead role in establishing Darjeeling as a summer retreat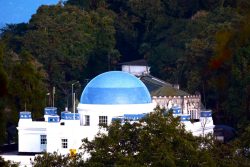 which later turned into one of the most popular hill station of India. So, there is no dearth of the colonial era monuments in the town. This can be seen in the form Governor House, heritage hotels, the original town planning, the railways stations, the churches, the local markets and the residential schools.
Which are the best places to visit in Darjeeling with family?
Here is a list of the 7 Best Places To Visit In Darjeeling while on a tour to this town.
Darjeeling Himalayan Railway
7 Best Places To Visit In Darjeeling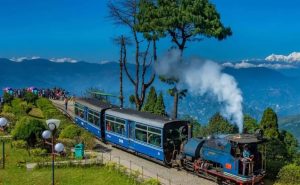 Most of the times referred to as 'Toy Train', a ride on it is an amazing experience in itself. Kudos should go to Indian Railways to keep it going till now despite so many difficulties. It is a glimpse of what the British did to reach this place. The construction of this 88-kilometre long railway line took place between 1879 and 1881, and since then it has been a coveted experience for one and all.
A journey in the Darjeeling Toy Train takes you through amazing sights with pleasing mountain views. Passing by villages and local shops on the way, with children merrily waving at you is a sight you can not experience anywhere else in India.
It was rightly included among the World Heritage Sites by UNESCO. In recent times landslides have caused a lot of damages to some parts of the railway track and the full route from New Jalpaiguri to Darjeeling has hardly been possible except on a few occasions. But people can enjoy rides on it from Darjeeling to Kurseong or vice versa. There is a provision for a special joy ride between Darjeeling and Ghum station just to give the tourists an experience of how it was done then.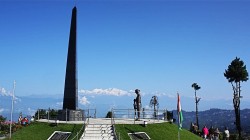 Batasia Loop
7 Best Places To Visit In Darjeeling
Surely the most picturesque train route on the entire Darjeeling Himalayan Railway route. Batasia Loop, a uniquely designed train pathway, is meant to minimize the elevation of the Darjeeling Himalayan Railway. The track wraps around itself here through a hilltop tunnel. Watching a train pass through this loop is a beautiful experience one must have when in Darjeeling. To top this Batasia Loop has unmatched natural beauty with a wonderful view of Mount Kanchenjunga visible all the time on clear days. Located on Hill Cart Road, Batasia Loop has always attracted tourists for its amazing panoramic view of Darjeeling.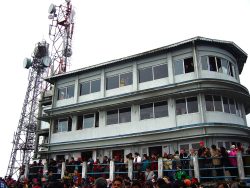 Tiger Hill
7 Best Places To Visit In Darjeeling
Tiger Hill, probably the most famous destination in Darjeeling, is situated some 11km from main Darjeeling town and just above Ghum at an altitude of more than 8400 feet. This is the highest point in Darjeeling and from here one can see mesmerizing sunrise on a clear day. The view of sun rising on the horizon and spreading multicolour hue over the snow capped peaks is quite spectacular, with probably very few parallels anywhere else in the world. This is also one rare points in India from where a small portion of Mount Everest can be seen.
Tourists throng to Tiger Hill in mornings to see sunrise. But a visit to Tiger Hill even during day time is worthwhile. From the Observatory Tower here one can have a 360 degree views of Darjeeling town, and on very clear days even various parts of Sikkim can be seen. Mount Makalu and Chomolhari Mountain, located on Bhutan-Tibet border, can also be seen.
Tiger Hill is a part of a nature reserve and its administration is done by Gorkha Territorial Administration.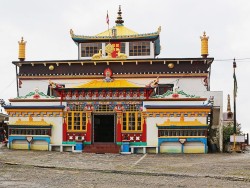 Ghum Monastery
7 Best Places To Visit In Darjeeling
Ghum Monastery or Ghoom Monastery is a famous monastery in Darjeeling. This was built by a Mongolian monk called Lama Sherpa Gyaltsho in in 1850. The monastery, which belongs to Gelukpa sect, has some beautiful Thangka on the walls. A 15 feet tall statue of Maitreya Buddha is a big attraction here along with some fancy bells and drums .
What is unique about Gum Monastery is that its library section has some rare works, which include Tibetan translations of popular Sanskrit works like Meghadoot by Kalidasa, Nagamandala by Sriharsa and NyayaKrit by Dharmakriti.
This monastery is also referred to as Yiga Choeling Monastery.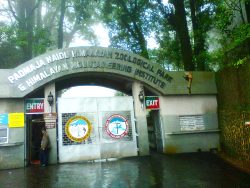 Himalyan Mountaineering Institute & Darjeeling Zoo
7 Best Places To Visit In Darjeeling
These two attractions stand very close to each other and hence they have been clubbed together. Himalayan Mountaineering Institute was established by the famous mountaineer Tenzing Norgan – the man who climbed Mount Everest successfully first time with Edmond Hillary. The Institute has a memorial for him. It also houses a museum that showcases mountaineering equipments, including that used by Tenzing Norgay himself.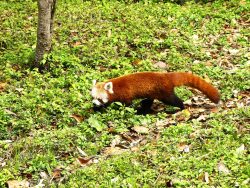 A small zoological park, called Padmaja Naidu Himalayan Zoological Park, is in the same campus where Himalayan Mountaineering Institute stands. This zoological park, generally referred to as Darjeeling Zoo, houses various species of Himalayan animals. These include animals like red panda, snow leopard, royal Bengal tiger, blue sheep, Himalayan Tahr, grey peacock pheasant, Tibetan Wolf and many others.
The zoo is famous for its conservation breeding programmes for red panda, Himalayan salamander, Tibetan wolf, and snow leopard.
Tea Garden Visit
7 Best Places To Visit In Darjeeling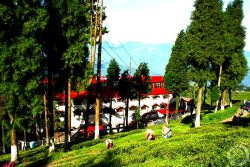 Darjeeling has a lot of tea gardens. There are some which are open to public. Some tea gardens also offer accommodation facilities for guests to stay and enjoy. Some are on the costlier side and some on cheaper side. However, if you just want to have a good look at tea garden and understand how different tea varieties are processed, a trip to Happy Valley Tea Estate is the best bet. It is located closest to Darjeeling town.
The tea estate, spread over 177 hectares, was established way back in 1854.  Tea plantations here are some 80 to 150 years old. At Happy Valley Tea Estate, a guide will explain you all intricacies involved with tea processing. The tea estate is open to public from Tuesday to Saturday during day time.
Trip To Sandakphu
7 Best Places To Visit In Darjeeling
Sandakphu and Phalut are visited by many tourists, trekking from Manebhanjan. However, those who cannot or do not want to visit these amazing places by trekking, there is a possibility to visit these by 4-wheel drive vehicles. These vehicles are the old Land Rovers left behind by the British from colonial times.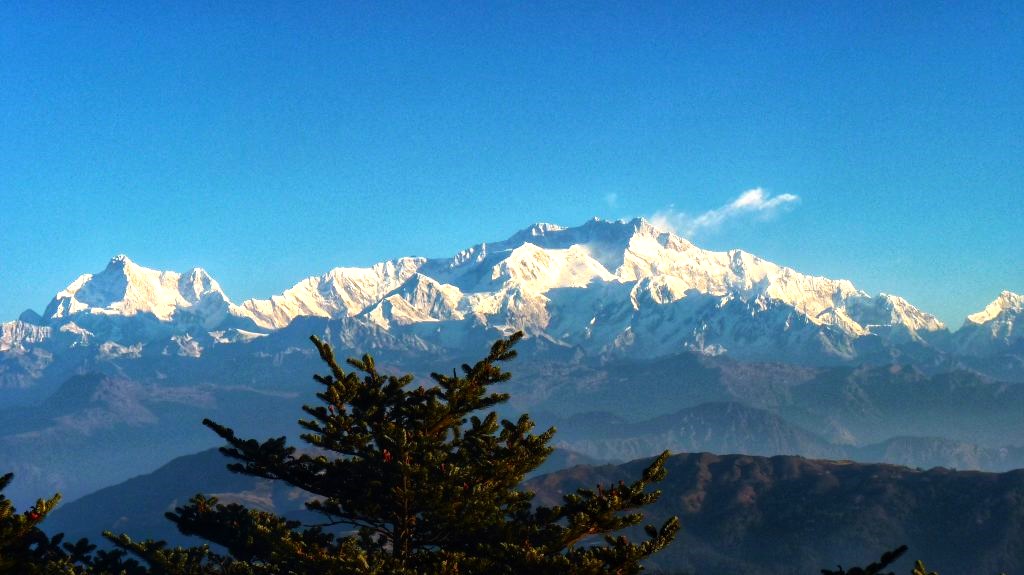 Manebhanjan is a little over an hour drive from Darjeeling. It can also be reached from Bagdogra or New Jalpaiguri railway station in around four hours. The drive from Manebhanjan is quite steep. Total distance from Manebhanjan to Sandakphu is around 30km, but it takes more than 2.5 hours to cover this distance. For the first 18km – from Manebhanjan to Gairibas – there is a concrete road, but beyond that till Sandakphu, roads are made of boulders. From Sandakphu to Phalut road is again made of boulders only. Total distance of 21km between the two places is, therefore, covered in more than two hours.
This whole trip is usually done in a 2nights/3days package, with proper acclimatization with altitude a must. So, this whole trip is done in stages with breaks. Tonglu is normally the first break on the way up. Sandakphu, which is the highest peak of Singalila Range, is the final destination which is done on the 2nd day. After a nice view of sunrise on the 3rd morning, tourists return via Phalut, which is the second highest peak of Singalila Range.
Accommodations are basic at both Tonglu and Sandakphu. However, Sandakphu has some private hotels also. On the way you enter or pass the borders of Nepal at some places. There is an option to stay in villages on Nepal side as well.
Sandakphu is perhaps only place in India from where four of the five highest peaks of Himalayas can be seen. These are Mount Everest, Mount Kanchenjunga, Mount Makalu, and Mount Lhotse. Phalut has similar views of these peaks. However, it is one place from where the views of the "Sleeping Buddha" (views of Kumbhakarna, Korbu North, Korbu South, Mount Kanchenjunga and Mount Pandim) is closer and outstanding.