7 Best Places To Enjoy In Agra
Agra, the very moment you hear this word, the one image that captures your mind instantly is that of Taj Mahal, often considered as one of the new wonders of the World.  Yes, Agra is the home of Taj Mahal . Taj Mahal is so splendid a monument that reams of papers and billions of gigabytes have been spent on writings about it. But Agra has more than Taj Mahal to offer. There are many places to visit in Agra. Agra was, after all, the cradle of Mughal architecture. To make things convenient, here is a list of  Best Places To Enjoy In Agra: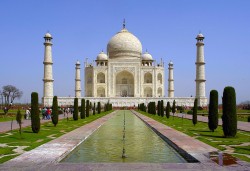 I. Taj Mahal
(7 Best Places To Enjoy In Agra)
Taj Mahal may have been built at the center of a 17 hectare land parcel, on the right bank of River Yamuna, but it  is virtually all over Agra. Taj Mahal, one of the seven new wonders of the world, is very much alive as almost the entire population of Agra is directly or indirectly dependent on it for livelihood. Seeing it as a vibrant monument, it becomes difficult at times to believe that Shah Jahan commissioned its construction in 1632 and it was built over 10 years by over 20000 skilled artisans meticulously to get it completed in 1643, with minor constructions in the Taj Mahal complex continuing till 1653.
Taj Mahal has been attracting tourists from all over the world. So much so that more than 7 million tourists have started visiting it every year. These also include heads of states of different countries and celebrities from all sorts of fields. The huge flow of tourists has forced the administration to bar tourists from staying at Taj Mahal for more than three hours. It is really surprising to see this considering Taj Mahal, built in white marble with inlays of semi precious stones, is actually a mausoleum. Not just the tomb of Mumtaz Mahal, Shah Jahan's favourite wife, but also the tomb of Shah Jahan himself is at Taj Mahal only.
There are numerous options for staying in Taj Mahal. Staying at Cherry's Agra, which is at a walking distance from Taj Mahal, is one of the best properties to stay in Agra.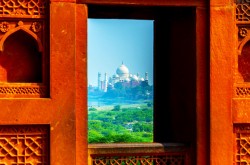 II. Red Fort
(7 Best Places To Enjoy In Agra)
Red Fort, believed to have been built on the site where existed the old fort of Badalgarh of the Lodi Sultans, who ruled Delhi Sultanate till 1526. Located by River Yamuna, Red Fort was both a military base and royal residence of the emperors of the Mughal Dynasty until 1638, when Shah Jahan moved the capital to Shahjahanabad. After Aurangzeb's death in 1707, Red Fort was plundered by the Jats and then the Marathas, and it eventually it fell in the hands of the British.
It was here that Shah Jahan was kept prisoner by Aurangzeb till his death.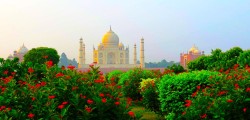 III. Mehtab Bag
(7 Best Places To Enjoy In Agra)
Mehtab Bagh, or the garden of the moon light as it is referred to as, was built between 1631 to 1635. The magnificent charbagh complex, sprawling over an area of 25 acres, is situated on the bank of river Yamuna, opposite Taj Mahal, in symmetrical alignment with it. The garden was in ruins, thanks to frequent flooding from River Yamuna.
This has now been restored by Archaeological Survey of India and now has become quite a popular place among tourists.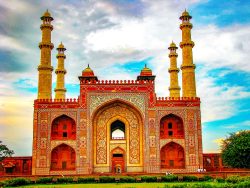 IV. Akbar's Tomb
(7 Best Places To Enjoy In Agra)
Akbar's Tomb, located in Sikandra, just 8km away from main Agra city, is an important Mughal monument, which was built between 1605-1613. It is believed Akbar himself commissioned the construction of this tomb.
The mausoleum is mainly built with red sandstone and marble in the form of the pyramid with expensive materials. The walls inside are ornamented with geometrical patterns and few floral designs. The building of the tomb has five tiers. Public is not allowed in the top tiers. The last level is crowned with four pointed towers.
The Jats had plundered the tomb after they took over the control of Red Fort Agra in the beginning of the 17th Century. This was in ruins but was rennovated back to glory at the beginning of the 20th Century.
V. Fatehpur Sikri
(7 Best Places To Enjoy In Agra)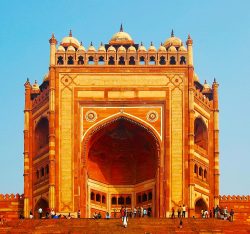 Served as the first capital of Akbar, Fatehpur Sikri was established in 1571. Situated some 39km from Agra, Akbar moved the capital from Fatehpur Sikri to Agra in 1585. The city was eventually completely abandoned in 1610. East India Company established an administrative center here which remained there till 1850. On the list of UNESCO World Heritage Sites, Fatehpur Sikriwas built in red sandstone. Influences of both Hindu and Muslim form of domestic architecture, popular in India that time, can be seen here.
Some of the most important monuments which can be seen in Fatehpur Sikri are Buland Darwaza, Jama Masjid, Tomb of Salim Chishti, Diwan-i-Aam, Diwan-i-Khas, Anup Talao, Panch Mahal, Birbal's House and Hiran Minar.
VI. Itimad-Ud- Daula
(7 Best Places To Enjoy In Agra)
Often referred as Baby Taj, Itimad-Ud-Daula is the tomb of Mirzā Ghiyās Beg, father of Nur Jahan, who was the favourite wife of Jahangir. Mirzā Ghiyās Beg was given the title of Itimad-ud-Daulah by Jahangir. The tomb was commissioned by Nur Jahan.
The tomb, located on the eastern bank of the Yamuna River, is significant because it is the first building finished in white marble under the Mughals. It is, therefore, representative of the transition of construction material from red sandstone to white marble. The mausoleum is set in a large cruciform garden crisscrossed by water courses and walkways. While the walls are made up of white marble, inlays of semi precious stones can also be seen. Semi-precious stones like cornelian, jasper, lapis lazuli, onyx, and topaz have been used here.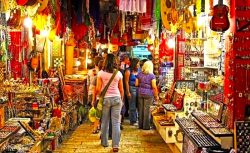 VII. Local Markets
(7 Best Places To Enjoy In Agra)
Agra is known for architectural monuments and most hardly get opportunity to explore the local markets of Agra. Agra is also a place of artisans and craftsmen of highest order remains unknown to tourists as their whole focus is on exploring tourist attractions. Take some time off and explore the markets of Agra.
Most prominent and visible collectibles in Agra are 'Bric-a-Brac' – small marble replicas of Taj Mahal. Intricacies on these are also amazing. Agra has also quite proficient leather industry. Agra is also famous for different varieties of unique sweet called Petha. This is made from white pumpkin (ash gourd vegetable). There are markets which are quite and should be visited to buy all kinds of souvenirs. Some of the famous of these are Kinari Bazaar, Sadar Bazaar, Shah Market, Shoes Market, Raja Ki Mandi, and Shahganj Bazaar.